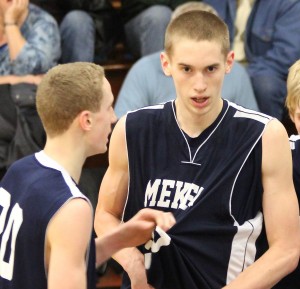 Collin pictured with his younger brother Caleb to his left
After one of the most successful High School careers out of Section II in recent memory, Collin Stewart is ready to show what he can do at the next level.  The former Mekeel Christian Academy standout finished his High School career as the school's all-time leading scorer at nearly 1,500 points. In his senior season, he led the team to a 19-2 record and scored at least 20 points in all 21 one of their games, including 47 and 45 point performances.
Next year, the 6'8′ Stewart will look to continue his success at Division I Monmouth University out of the Northeast Conference.  Stewart says there was a multitude of reasons why he decided to choose Monmouth over UAlbany, Army, and the various other schools who recruited him.
Firstly, with education being a major factor for Stewart, he was impressed with the Computer Science-Software Engineering program at Monmouth, which he wishes to study in College.   "I'm very interested in studying Software Engineering.  During our campus visit, we met with the Director of the Computer Science Program and discussed the opportunities and details of the program.  It matches my plans, perfectly", said Stewart in a recent interview with Upstate Scouting.
Stewart was also impressed with the schools new 50 million dollar athletic facility, as well as their esteemed coaching staff led by Head Coach King Rice. "They have a clear vision for growing the program and set a challenging non-league game schedule.  I wanted to play at the highest level and they provide that opportunity", Stewart said.
Despite his size, Stewart is a natural wing player and possesses tremendous shooting ability and quickness.  At the High School level, he was also able to dominate the paint against smaller opponents with his great size and athleticism. Stewart says that shooting and scoring as well as length on defense will be his biggest assets at Monmouth. "I think I will create problems for other teams in the NEC because I can take a bigger player off the dribble since they need to come out and guard me beyond the 3 point line, or I can post up a smaller player.   I've been working on my post defense and strength so I can guard a post player and create speed mismatches on the floor."
For the summer, Stewart plans to head to Monmouth on July 9th to begin taking summer classes and participate in summer workouts. He also will be participating in the Capital District Basketball Association Summer League, which he sees as a chance to improve his game. "It's a good opportunity to play the strongest talent in the capital district with other Division 1 players and former Pro players," Stewart said about the CDBA.
Stewart was named the Section II Small School Player of the Year by Times Union last season, to go along with his countless accolades from his time at Mekeel Christian (formerly Schenectady Christian). Stewart credits his High School coach Chad Bowman for preparing him to be a successful player throughout his career. "Coach Bowman is an excellent coach.  He has taught me to always be prepared and follow game plans.  I knew coach would always give us a game plan and scouting report that would get us a win, regardless of who we played, as long as we executed."
Stewart also notes his parents as the most influential factors in his Basketball career. "They both remind me I have a 6'8' body and a passion for Basketball", Stewart says of his parents, "There is a path for me; I need to follow it".
Stewart will follow his path in his freshman year at Monmouth in the fall, where the Hawks will look to improve upon their 12-20 record from last season. Upstate thanks Collin Stewart for answering our questions, and we wish him the best of luck in his collegiate career.
Ross Bentley – Staff Writer