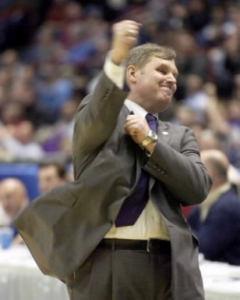 (CBA coach Dave Doemel pumps his fist in triumph as his Brothers beat Albany Academy in the Section II Class AA title game in 2009 after losing in '07 and '08.)
As he walked off the court at Hudson Valley Community College on that March night in 2003, Dave Doemel thought about his chances of returning to the Class A title game the following year.  After battling it out with arch-rival La Salle Institute to stay out of last place a few yearsbefore, the Brothers had made it all the way to the Section II championship game only to lose toLa Salle again. Although uncertain, coach Doemel felt that the guys he had coming back and the ones who were coming up had a good chance at contending once again in 2004. With Brian Monahan and Josh Duell returning, Doemel knew there was potential to do some damage. He just didn't know to what extent and for how long it would last.
During his childhood, Doemel was a multi-sport athlete. Here's what he says about his days spent playing basketball:
"My father and brother were great hoopers and started me off in the sport.  We spent many days out on the courts and in the gyms of Cohoes, enjoying the game.  Since our elementary school did not have a gym, my father used a contact with one of his old friends to get me into the old Cohoes Armory early on Saturday mornings.  He worked with me on the fundamentals of the game.  Not to brag, but as a youngster, I was pretty good.  In one city recreational All-star game, I scored 32 points in 3 quarters and was named MVP.  I loved the basketball, butas I got to high school, I spent my summers working on baseball, the sport I felt that I had the most talent in."
Although primarily a baseball player in high school, Doemel played point guard on Bill Telasky's CBA varsity team that won two Diocesan League championships, as well as a number of regular-season tournaments. While at CBA, Doemel not only played for Telasky, a tactical wizard in his own right who is most notable for upsetting undefeated Shaker, led by future NBA player Sam Perkins, for the 1980 Sectional crown, but was greatly influenced by Jim Pedlow, who served as varsity coach when Doemel led the JV squad, and Ned McGraw, another former CBA coach who was the Athletic Director during Doemel's time as a student and player at CBA.
Upon graduation from CBA, Doemel attended the University of Notre Dame. After graduating with his bachelor's degree, Doemel returned to CBA as a teacher. Continuing his basketball education by watching Telasky and Pedlow, then he became the JV coach when Telasky left and Pedlow took over the varsity squad., Doemel had this to say about taking over the varsity when Pedlow left :
"My objective then, as it is now, was to learn as much as I could about the game and pass it along to my players.  If we get better every day, we have achieved success."
After a successful stint in the 90's, Pedlow retired and Doemel was promoted. The first couple seasons were trying. CBA has just announced they were moving from Albany to Colonie. As a result, parents were apprehensive to enroll their kids because of fear the school mightbe in financial trouble and this move was a way to close their doors. The number of kids at the school dwindled, and although there were some good athletes, a majority of them focused most of their energy on a sport other than basketball.  Asked if, in the early years, he ever just wanted to give up and throw in the towel, coach Doemel said:
"In the midst of an extended losing streak my first year, we had a game against a pretty good Albany H.S. team.  During warm-ups, legendary Albany High coach Paul Lyons must have noticed that I was a little down and asked me how I was doing.  I related that I had my doubts that maybe I was not ready for the varsity level.  He laughed and pointed to my team and asked, 'At the end of the game, who do you throw the ball to when you need a score?'  We had good kids, but I really did not have that one player I could throw it to.  Coach Lyons said to me, 'the rest of us in the league have at least one or two guys we can throw it to.  When you get that kid, you will be fine.'"
Prior to the 2000-2001 campaign, he found that kid in Sean McCloskey. A transfer from Albany High, McCloskey was the leader whom coach Doemel was looking for. Joined on that team by Victor DeMouth, Richard Jones, and freshman Brian Monahan, the '00-'01 Brothers went 11-11, a significant improvement from 3-18 the year before, but more importantly, they were a legitimate contender for a majority of the season.
The 2001-2002 season was a little better, with the team finishing 14-8. Losing McCloskey after the year was key, and they had to find a replacement if they planned to improve upon that mark for the next season. Although not quite filling the void at point guard which they wanted, one of the section's best big men, Josh Duell, transferred in to team up with Monahan in the frontcourt. The two led the team to a 16-8 record, losing in a heart-breaking defeat to La Salle in the Section II Class A Championship. A fierce competitor who wants to win, Doemel was not happy with the loss. However, with Duell and Monahan only juniors, and Joe Bova on the rise, Doemel was confident that they could repeat their success the following year.
The 2003-2004 Brothers' squad again lacked the point guard that they missed the previous year. Pete Raponi, Joe Bova, Dan Kirchner, and Datwan Hemingway all filled the void at one point or another. Regardless, the starting five was strong and equally strong was a quality bench. The Brothers jumped out of the gates on a tear and smacked La Salle 74-47 at home in an early season rematch of the '03 title game.  They won every contest until a loss in a game at La Salle, which was played over two days due to condensation on the court, their first defeat all year.  They would win the rest of their games that year, including the first-ever Section II Class AA Championship, until a loss to Mount Vernon in the NYSPHSAA semi-finals sent them home for the off-season. The team won 24 games in all, while only losing two. Even after losing Monahan and Duell, Bova led the team to the '05 championship and Greg Holle starred as they won again in 2006 to compete the three-peat.  After losing two years in a row in the final game to Rich Hurley's Bishop Maginn squad featuring brothers Talor Battle and Taron Buie, the team has won the last four Class AA title games, including the 2010 New York State Class AA Championship.
After winning seven of the last ten Section II championships, coach Doemel was asked if his teams come in and expect to be playing in that game every year:
"Our Big 10 League competition prepares us very well for the sectionals.  During the course of the season, we are very well aware of the effort necessary to compete with great teams.  We try to approach every game the same way…prepare well, play our hardest, work together, and success will follow.  I found out early… when we suffered through some losing seasons…that the scoreboard does not necessarily demonstrate success.  I am a John Wooden disciple, so I truly believe that making the effort to be your best is the true success.  Sometimes we do not achieve success even when we win a game.  Maybe we just have more talented players, but we may not have played our hardest.   At other times, we DO achieve success even when we lose a game."
Asked about the match-up zone which has become CBA's trademark, coach Doemel looks to the greatest zone practitioners of all time:
"I have always had the belief that a good high school coach must utilize his talent in the best way possible.  At the college level, you can recruit the type of player who fits your system, whatever that may be.  Boeheim won a National Championship at Syracuse playing only a 2-3 zone.  Judd Heathcoate at Michigan State won a championship with Magic Johnson and a match-up zone.  Mike Krzyczewski has won several championships playing only man-to- man.  His mentor, Bob Knight, who set so many records for wins, thought "Zone" was a dirty word.  The greatest champion, John Wooden won an unprecedented 10 National Championships playing a 2-2-1 full court press back into man-to-man."
When asked to elaborate on other reasons why he may employ the use of the match-up zone and if he thinks it's the best defensive system in the game, coach Doemel offered a two-part response:
"Mike Long Sr., a very successful college coach and one of my assistants for a few seasons here at CBA, provided some great principles of man-to-man to my coaching philosophy. Mike would cringe every time I worked on the match-up zone during practice.  Yet, he congratulated me on my coaching strategy when we defeated Half Hollows Hills West in the 2010 State Championship game when we played them a match-up zone."
"In my opinion, you can win with either defense if your personnel fits it and you, as a coach, are committed to it.  I challenge our players to learn both, which is very difficult.   Over the years, some teams have done a better job at one than the other, but I like having both at our disposal."
Despite all the accolades (seven Section II titles, a NYS title, a plethora of Coach of the Year awards, and induction into the Capital District Basketball Hall of Fame), coach Doemel remains a very humble and well-grounded individual.
"I consider myself a coach who has been blessed to have had some great and talented young men who were and are willing to commit to each other and our concept of team play."
Coach Doemel's advice to the up-and-coming young coaches in the ranks would be to "be yourself, work hard," and most importantly, "remember it's all about the kids."
We wish to thank coach Doemel for taking the time to speak with us and to congratulate him on his unprecedented success.  There isn't a coach out there who is more deserving than Dave Doemel.
Mike Long, Jr. – Staff Writer