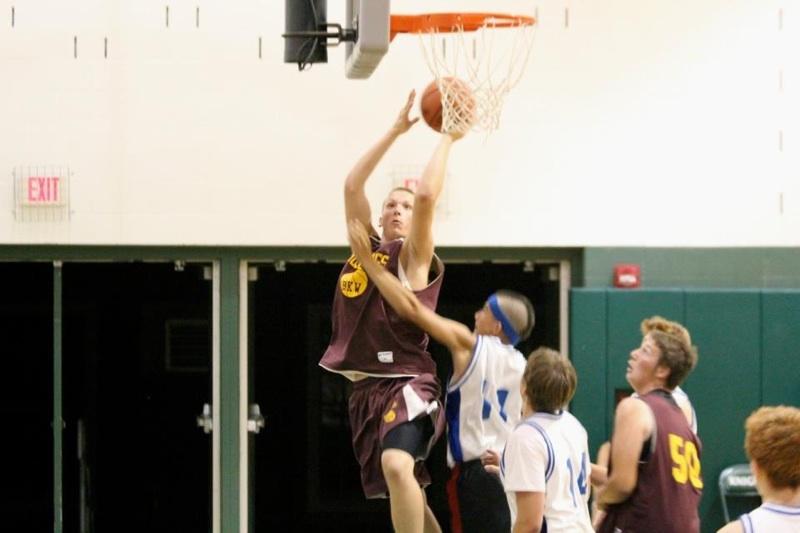 Garrett Pitcher possesses all of the tools of a successful basketball player.  At 6'4" and 200 pounds, he has size. He has the strength to post up, plus the speed and handling ability to beat his man off the dribble.  This senior small forward out of Berne-Knox-Westerlo is constantly working to improve his game, and is setting his sights on a successful season, and a future playing ball in college over the next few years.
Growing up in a family that loves basketball – his sister [M1] also played for Berne – Pitcher started playing at the age of five. His life-long love of the game has paid off, as he has drawn the interest of NCAA D-III schools Hilbert, Hobart, and Oneonta.  Garrett believes his greatest strengths are making his teammates better, his confident ball-handling and the ability to knock down shots.
He has the ability to push the ball, as well as slow it down and go to the post game.  He has been playing year-round and is trying to improve his strength and quickness.  "My goals individually are to do the best I can to make everyone else better and to do what I need to do to win," Pitcher said of this season. "As a team, it's all about getting to [the New York State Boys Basketball Championships at] Glens Falls."
Pitcher's strong play earned him a spot on the Western Athletic Conference South first team last season.  Pitcher averaged around 17 points and 8 rebounds per game, and this year he will be taking on a bigger role since big man and fellow WAC first teamer Nate Krimsky left for college.
Pitcher added to a good year having a successful AAU season with the Middleburgh Magic, going 22-1.  Magic coach Andy Hulbert said of Pitcher, "Garrett is a pure shooter. [He] can score from the outside three-point line and inside in the post." Hulbert also praised Pitcher's ability to use his body in the post, as well as his rebounding on both ends of the floor.   He summed him up as an "intelligent player with a real feel for the game. A joy to coach."
Pitcher said he participated in camps all summer, as well as a summer league and played every day. Now he is poised to finish out strong for his high school career.
Upstate Scouting would like to thank Garrett Pitcher and Andy Hulbert for taking the time to talk with us and we wish Garrett luck this season.
Joe Shahen-Staff writer