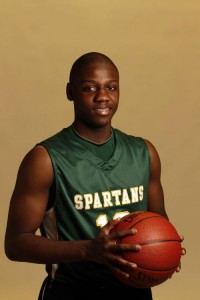 Sterling Taplin of Williamsville North High School near Buffalo is attracting interest from across the country. At six foot, 180 pounds., this junior has been playing on the varsity squad since the seventh grade. Taplin has been named All-Western New York twice, First Team All ECIC, Co-Player of the Year in the ECIC, and runner-up Player of the Year in the ECIC. During the 2011-2012 basketball season, he averaged 19 points and five assists per game, and led his team in blocks.
Glen Taplin, who is a trainer, former high school and college basketball coach, and most importantly, the father of Sterling, credits his son's success to his dedication to the game. Glen recently said that Sterling "studies the film. All he wants to do is win."
It appears that Sterling will have his choice of where he is going to win at the Division-1 level. As a junior, Sterling has seen attention from many major schools, including the University of Buffalo, Boston University, Wake Forest, Creighton, Wichita State and St. Bonaventure.
Although this high school point guard has shown he has what it takes to pursue his play at the next level, there are still things he would like to accomplish in high school. His father, Glen, recently told Upstate Scouting that this season Sterling would love to reach Glens Falls, where the New York State Boys Basketball Championships are held. To do this, the team from Williamsville North will have to go farther then they did last season, which ended abruptly in the 2nd round of sectionals. However, a silver-lining for Sterling's sophomore campaign was when he reached the 1,000 point landmark.
When asked what makes Sterling such a special player, Glen quickly answered that "he is a floor leader. Not only a leader, but he is a floor general. That's what he has to be as a point guard. He is very unselfish, a true point guard." Glen believes this is something natural for his son because he, Glen, has emphasized discipline his whole life. Discipline not only on the court, but off, as well. This discipline is how Sterling has become "the (floor) general."
Sterling also plays for the Albany City Rocks. This competitive AAU team has taken the Taplin family across the country, including trips to California, Dallas, New Jersey, and Florida. The passion for the game does not stop with just Glen and Sterling, but it is truly a family affair. Glen Taplin spoke about how his wife is a former All-American basketball player in college and his daughter, Ericka, made the school varsity team as an 8th grader. Glen joked about how he was "the 4th best player in the house." With such a family passion for the game, it is no mystery why Sterling Taplin will be a name to look for on the Division-1 basketball scene.
Upstate Scouting would like to thank Glen Taplin for his interview and we wish Sterling continued success.
Josh Skinner-Staff writer