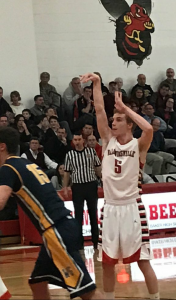 Casey Pluff, a junior at Baldwinsville High School, is on the verge of breaking out. The 6'1, 155 lb. guard, who ran with Billy Elden's Gym Ratz and D-Squad teams this summer, is slowly becoming a standout prospect in Syracuse.
Pluff has been a member of his school's varsity team since his sophomore year. It's not often that you see an underclassman on a varsity roster, let alone playing and excelling, but Pluff did all of that. Currently, he's averaging 12 points, one rebound, one assist, and one steal per game, but is eager to improve those numbers.
As his numbers suggest, Pluff is quite versatile. He is adept at shooting the basketball and has a tight handle. He possesses an array of dribble moves and can get to the paint and finish with ease. He is an excellent facilitator and passes well with either hand. He's an excellent defender, too, and is a great leader for his team.
Pluff has not garnered much interest from collegiate programs yet, but expects institutions to get involved in the process very soon. He's confident in his abilities and is excited to showcase his game. During the off-season, Pluff spends a great deal of time in both the weight room and in the gym. He said he lifted about three times a week, and was in the gym working on his skills almost every day. Pluff has a 95 average in the classroom.
I had the chance to ask Casey a few questions, as well:
Q: What do you believe are your best skills as a basketball player?
A: Ball-handling, shooting and passing.
Q: Have you set any personal goals for this upcoming season?
A: To do anything I can on the floor to help my team win.
Q: What are some things you like to do outside of basketball?
A: Outside of basketball, I like to listen to music, play guitar and golf, and spend time with friends.
Q: What impact do you feel you would bring to a college team?
A: Team-work, positivity and a winning mentality.
Q: Every kid who plays basketball thinks they're good. What do you think you are?
A: A hard-worker always looking to improve my game.
Q: What is your ultimate goal, with respect to the game of basketball?
A: To be a successful college player and hopefully play somewhere after I finish college.
Dan Cohen-Staff writer