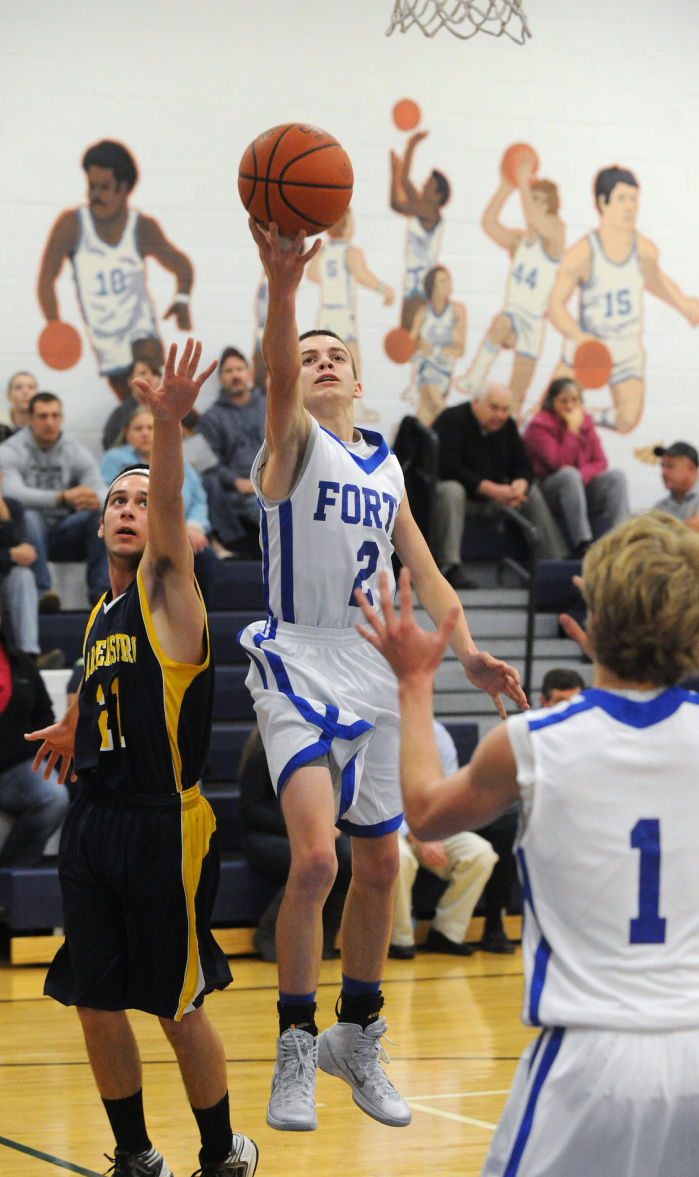 Senior guard Chris Boucher is one of the most dynamic scorers in all of section two. In fact, as of this writing, Boucher is leading the entire section at an astonishing 35.9 points per-game, and he has led Fort Edward to a 5-4 record.
Boucher has "in-the-gym" range and can lead his team to victory with his ability to hit it from deep. His father, Chris Boucher Sr. said that Boucher has been working on his shooting ability for most of his life. "Accurate shooting is not a God given ability. Chris has been working on form, concentration and release since he was in 3rd or 4th grade. Even now, he has his own shooting machine at home and he shot thousands upon thousands of shots this Summer and Fall."
But Boucher is more than just a shooter. He has found many different ways to score for the Flying Forts during his career, and he continuously has to make adjustments on game-by-game basis to maintain his scoring lead. Many teams implement specialty defenses like a modified box-and-one or triangle-and-two to try and stop Boucher from beating them single-handedly. Boucher said those defenses make it tough for him to run off screens to get open, so he has to do much of his damage off the dribble.
Finding different ways to produce and routinely scoring nearly half your teams' points requires hard work, and Boucher says that in that area, he tries to lead by example. "I promise that no one will spend more hours working on their game than I do. I hope the younger players see that and they work harder because of it. There is always something that needs work and I try to get better at something every day."
Boucher was a prolific scorer last season as well, but he didn't coast going in the offseason on his prior success, as he worked to improve his game, adding nearly 20 pounds of muscle and having the benefit of growing two inches to 6-2.
In addition, with Fort Edward losing some guard help from last season, Boucher has found himself in situations where he has had to handle the press coming up the court, an area in which he feels like is one of the most under looked aspects of his game. "It's not like last year, where we had more experience at guard. This year we are short handed and I end up fighting through a lot of pressure. But, it ultimately opens the floor and my teammates get open."
Boucher is still looking into where he will be playing next season after his career at Fort Edward finishes up. He told me that he and his father communicate together with schools trying to find the best fit. There has been a mix of division two and three schools that have contacted Boucher about playing at the next level, and even some division one schools that may be interested in having him on as a walk-on. For now, though, Boucher is keeping his options open.
As for his remaining games at Fort Edward, Boucher Sr. says that after putting his name in the record books several times as an individual, his son has only one goal left that he has yet to achieve. "A sectional championship. He doesn't have any personal goals left. He will be the all time scoring leader in school history in the next couple of games. He already has the single game record at 55 points, so it's all team goals the rest of the way. They have lost a few in the first half of the season, but he's confident they will finish strong and make a run at the sectional title."
Ross Bentley – Staff writer