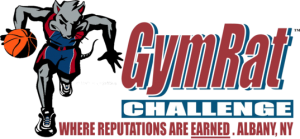 Year in and year out, Albany's Gym Rat Challenge continues to be one of the premier AAU basketball tournaments in the Northeast. Teams from all around New York, New Jersey, Massachusetts, and beyond flocked to the Capital Region to take part in the three-day event featuring some of the top high school prospects and elite AAU teams in the country.  The games took place throughout the area in sites such as: Skidmore College, Shenendehoah H.S., Schenectady H.S., and Union College.
This year, Upstate Scouting took a trip out to watch the event and pick out some players who stood out to us.  In the 15U Division, the  New York Rens from New York City that captured a one point win over Albany City Rocks Black in the championship after a strong performance from Tournament MVP Jared Rivers from Christ the King.  In the 16U Division, Syracuse Select captured a tournament victory over Brampton Elite. Select was led by Tournament MVP Jordan Roland from Westhill High School.
Finally, in the 17U Division, rising seniors showed off their game and several teams impressed along the way. However, it was Jersey Shore Warriors who went home with the championship after they knocked off  the NY Rens in the final. The MVP of the 17U Division was Dominique Uhl from Jersey Shore Warriors.
In every division, there were many players who stood out and found themselves on All-Tournament teams., most of whom have a future as collegiate basketball players.
Overall, the tournament provided thrilling action not only for scouts and coaches, but for any basketball fan looking for non-stop, exciting basketball action featuring some of the most talented high school players in the region.
Ross Bentley- Staff writer