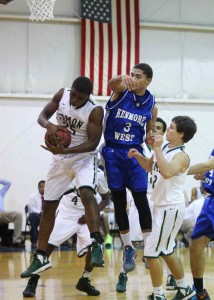 Junior guard Donte Williams is making an impact for Bishop Timon-St. Jude this season. Williams is averaging close to 20 points per game for the Tigers and has led them to the third overall seed in the upcoming Manhattan Cup.
Williams, son of former NBA player Ricky Williams, who played for the Utah Jazz in the 1980's, is a natural athlete with supreme leaping ability, and also a knack for scoring the basketball. "I think his ability to get to the basket and his mid-range jump shot are the best parts of his game," Ricky Williams said about his son in a recent interview with Upstate Scouting. "That's what he's been doing mostly. Getting to the basket off the dribble, pulling up and shooting the jump shot."
The elder Williams attended Long Beach State and the University of New Mexico before playing in the NBA and CBA, and he has passed downmuch of his natural basketball ability to his son Donte. "He is jumping out of the gym," said Ricky Williams. "His jumping ability is outrageous right now. He is a junior, so that's what I can see, he is playing above the rim."
Despite his scoring ability and athletic prowess,  Williams has commented that Donte has not been getting the looks from colleges they have expected up to this point. "It's been kinda slow right now.  We haven't really heard anything. Hopefully by the summer something can happen."
Although the offers may not be flying in, it is clear to us that Williams has the capability to be a dynamic college player. Williams is still working on his ball-handling ability and strength, but at 6'4" he is molded to be a shooting guard at the college level. With his shooting touch, combined with his ability to get to the basket, he should have no problem transferring his skills to the next level.
With still a year and change remaining in high school, Donte Williams will get all the help he needs from his father to maximize his potential.  "I played in the game. I'm not going to cut any corners with him. I played in the NBA with the Utah Jazz, so I just try to point him in the right direction, so he can be the type of player that they are looking for."
Ricky Williams said that his son plans on continuing to play AAU, hit the gym, and improve his game in the offseason. For now, Williams and his father are focused on finishing out the season strong for Bishop Timon-St. Jude. "They have the Manhattan Cup and hopefully they can surprise somebody and win it. They rank third seed in the playoffs, behind Canisius and St. Joe's, so hopefully they can come in and do some damage as a sleeper."
Upstate Scouting wishes to thank Ricky Williams for his time, and wish Donte and Bishop Timon-St. Jude the best of luck for the remainder of the season.
Ross Bentley-Staff writer